Catalog-Download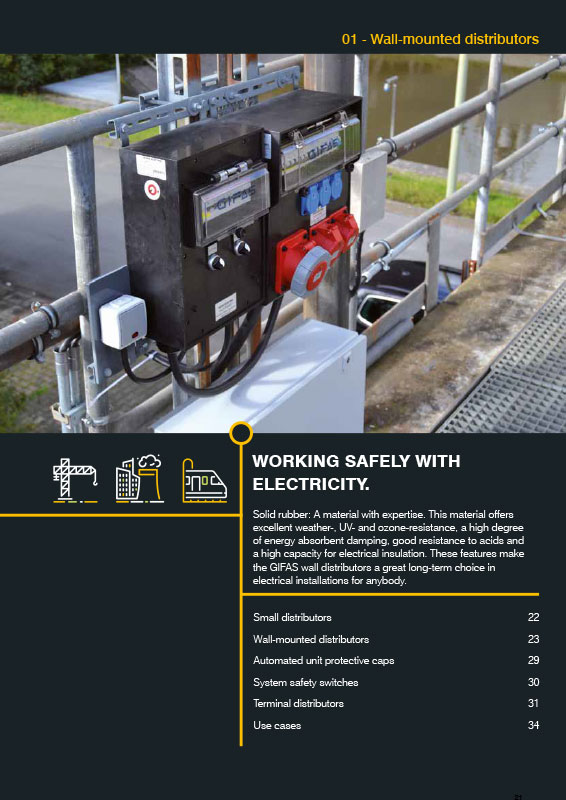 Thanks to our wall-mounted distributors, electrical power is quick and easy anywhere available. Simple installation saves time and customized solutions expand the range of use. 
As with all of our products, we attach value to use high-end components and production techniques to ensure that only quality products with a long-life cycle reach our customer.
One material plays a vital role for GIFAS products: solid rubber made from butyl rubber. This elastomer possesses numerous properties that make it the ideal material for extreme working conditions. These properties include, for example, the excellent attenuation of oscillation and impact energy, the strong resistance to acids and lyes, excellent resistance to weather, UV and ozone and a high electrical insulating capacity.
Further product properties of wall-mounted distributors:
All external metal parts made from rust-proof material
Solid rubber sockets with nickel-plated contact sleeves
Fuse elements protected with special shock-resistant cover
Stainless steel screws set in rust-proof brass press-fit bushings with dual anchor
Wired ready for connection
parts can be exchange individually
Protection category up to IP 65
Self-extinguishing and flame-resistant
Comply with all minimum standards requirements for equipment of Category 2 "K2"
For further information please have a look at our PDF at the left side or contact us! We are looking forward to hear from you!