PDF-Download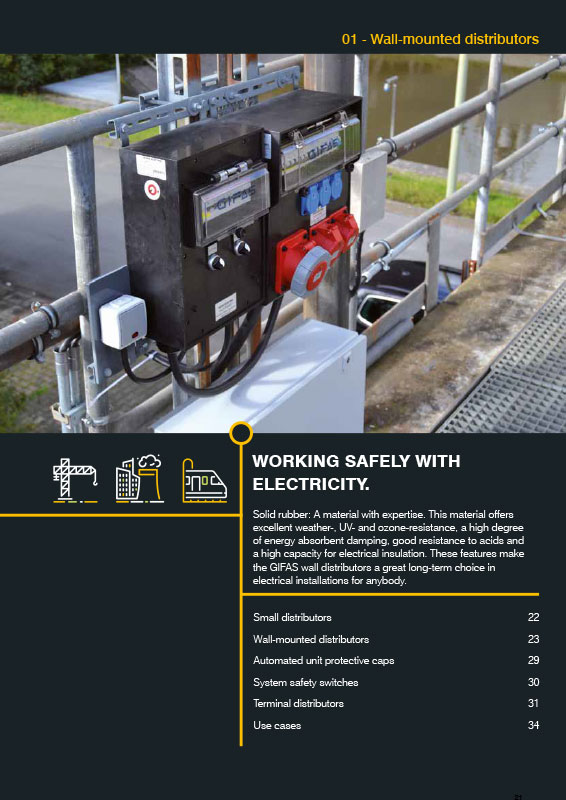 Thanks to our underfloor distributors, electrical power is quickly available anywhere and without time-consuming installation work! Tailored, customized equipment according to choice.
As with all our products, we attach tremendous importance to using high-quality components and production techniques.
One material plays a vital role for GIFAS products: solid rubber made from butyl rubber. This elastomer possesses numerous properties that make it the ideal material for hard-working products. These properties include, for example, the excellent attenuation of oscillation and impact energy, the strong resistance to acids and bases, excellent resistance to weather, UV and ozone and a high electrical insulating capacity.
Further product properties of wall-mounted distributors:
All external metal parts made from rust-proof material
Solid rubber sockets with nickel-plated contact sleeves
Fuse elements protected with special shock-resistant cover
SS screws set in rust-proof brass press-fit bushings with dual anchor
Wired ready for connection
parts can be exchange individually
Protection category up to IP 65
Self-extinguishing and flame-resistant
Comply with all minimum standards requirements for equipment of Category 2 "K2"
For further information please have a look at our PDF at the left side or contact us! We look forward to hearing from you!